Extinction is death by a thousand cuts. In Laos this is happening before our eyes, primarily through poaching and forest destruction.
Without safe forest to roam and graze, elephants are not only at increased risk of poaching, but they also become hungry when food runs out. That's when they're forced to turn to village crops for survival, often leading to human-elephant conflict.
With their numbers dwindling to as low as 800 individuals, Laos' elephants are on the brink of Extinction. Our partner Elephant Conservation Center (ECC) is working in the Nam Pouy Biodiversity Area, racing against time to save a population of 50 elephants from poachers, conflict with humans and more. ECC is at the forefront of innovative, revolutionary solutions to saving Laos' last elephants.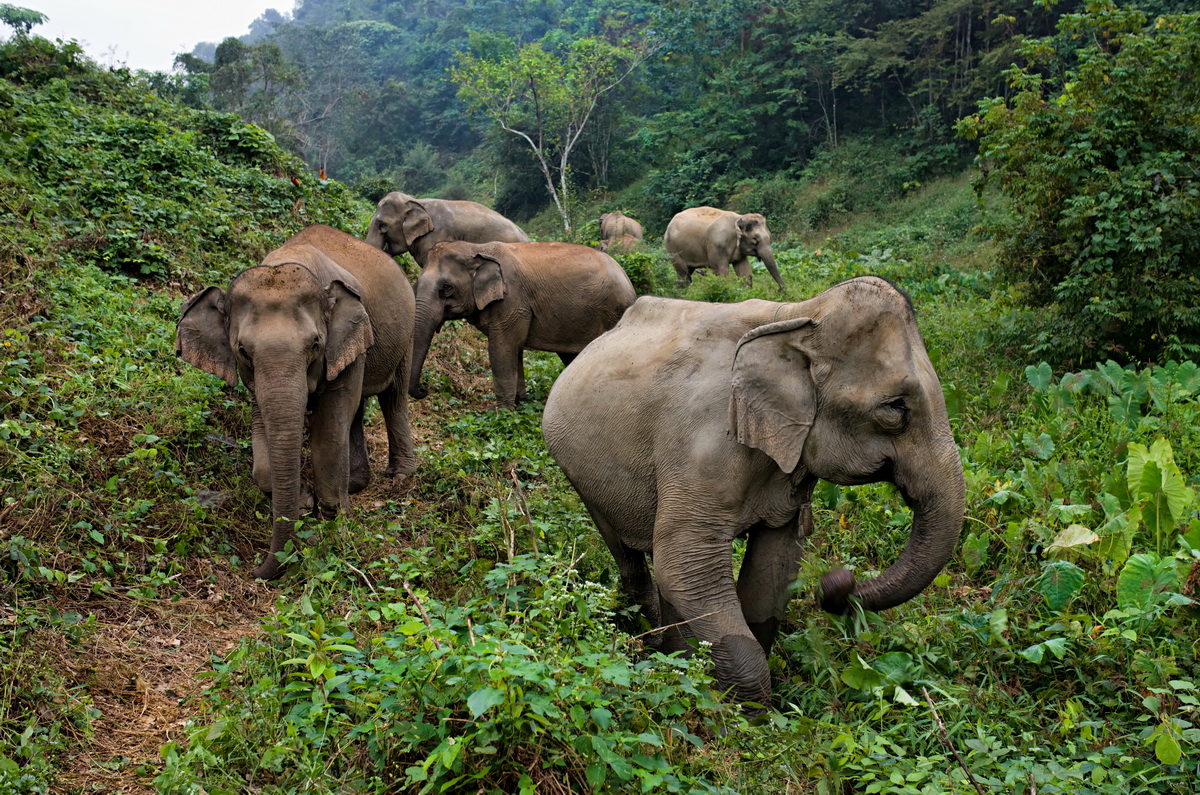 Above: some of the elephants cared for by the Elephant Conservation Center
Rewilding ex-captive elephants
The elephants of Laos have been used for the logging industry for decades. Their lives are short, painful and controlled. There are few opportunities for bringing new lives into the world. They are not free. And at the same time, they're also involved in the destruction of their own forest homes. But what ECC have demonstrated is that when these elephants are freed from this life of toil and pain, they can be rehabilitated and released back into the wild.
This is one of the innovative ways in which ECC is saving the elephants of Laos. As ex-captive elephants are reintroduced to the forest, not only are their lives improved, but they are already showing good signs of being able to mix with the wild herds. Their presence will boost elephant numbers and increase the genetic diversity of this critical population of elephants.
Since 2019, ECC has reintroduced four ex-captive elephants, who would have ended up in a Middle Eastern zoo if they hadn't been rescued at the last minute. Two of these rewilded elephants are part of our adoption program and they're going from strength to strength. Mae Mah is the protective matriarch of her little rewilded herd, while Dor Khoun Meuang is a precocious young male who is growing up before our eyes. You can find out more about them on our adoption page.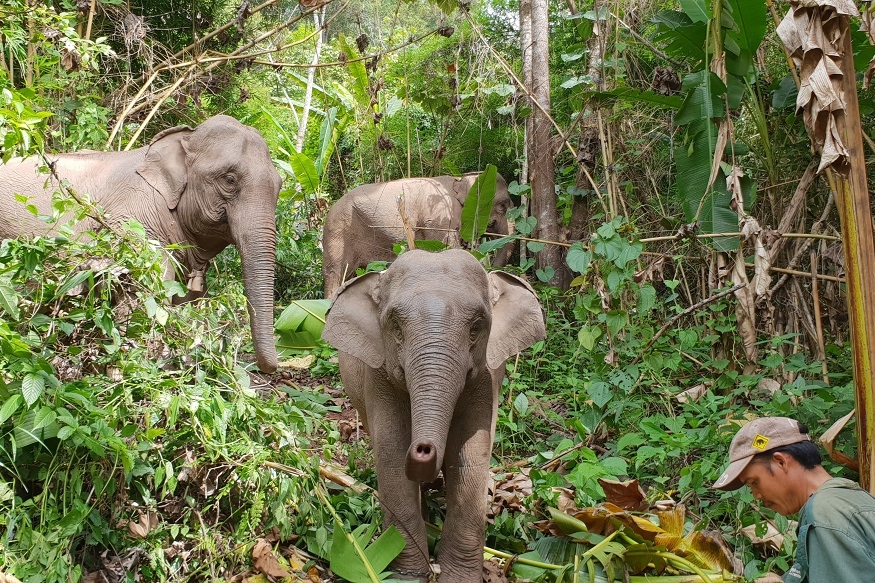 Above: Dor Khoun Meuang raising his trunk, a typical warning act to stop humans from getting too close
Vital training for rangers and enforcement officers
We've proudly funded ECC since 2019, with a key focus on the supporting and training their wildlife rangers need to protect these herds. Earlier this year, they ran a week of training and workshops to ensure rangers and enforcement officers are up-to-date with current patrolling, law enforcement and protected area management techniques. Twenty-eight people from the District Agriculture and Forestry Office's (DAFO), the military, local villagers and National Protected Area (NPA) staff attended the training.
The training included broad focuses on conservation, forest patrolling techniques, navigation, monitoring and data collection. This training was the first of its kind for the Nam Pouy Protected Area, and as a result all members of a patrol team have now received formal training on best practices in patrolling and law enforcement. One of the key benefits of this joint training was to bring different groups together to create more efficient and effective patrolling and monitoring of forest and elephant herds.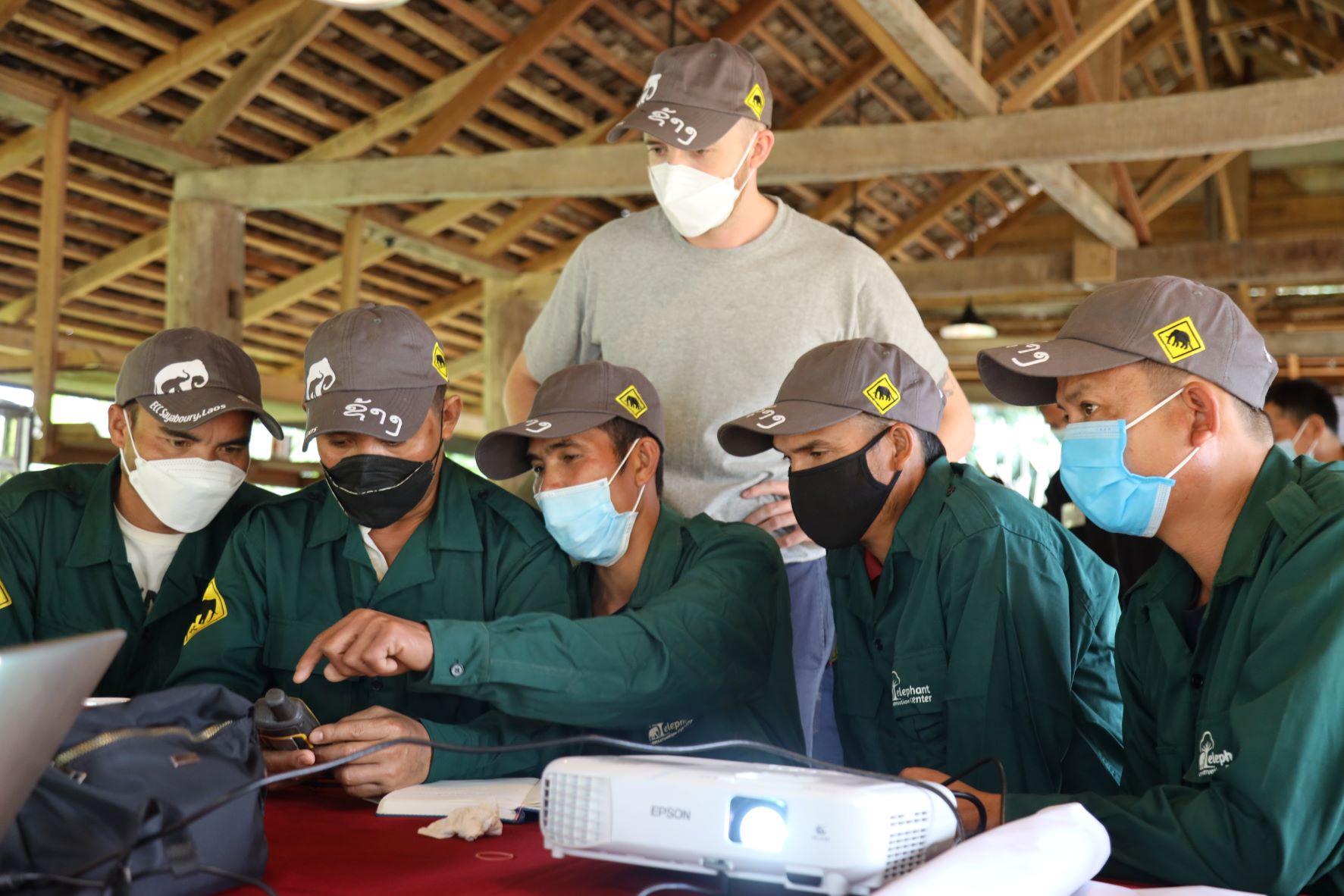 Above: staff and military undergoing training on how to track and monitor elephants using GPS
You can read more about the Elephant Conservation Center here.
Below you can see some of the staff and military during their training, planning their patrols, and pictured with a cache of snares removed from the forest.